Back in 2008, oncologist James J. Stark, MD, faced a tough decision: shut down his small private practice or sell it to Riverside Health System.
Out of economic necessity, Dr. Stark chose to sell his practice. Riverside Health, a hospital chain based in Newport News, Va., converted Dr. Stark's office to an outpatient extension of the hospital, and he went from being a solo practitioner to one of 12 salaried oncologists and 400 doctors.
Dr. Stark's story has become a familiar one. Over the past several years, an increasing number of small oncology practices and community oncology clinics have wrestled with the difficult decision to close their doors or be purchased by a large medical entity. The Community Oncology Alliance (COA), which mapped this changing landscape, revealed that from 2007 to 2013, 288 oncology clinics have closed and 469 have been purchased by or are now affiliated with a hospital.
At the same time, the cost of cancer care appears to be rising. After being purchased by Riverside Health, Dr. Stark found that insured patients started getting billed at the hospital rate and chemotherapy prices skyrocketed. "A $3,000 chemo event suddenly became a $7,000 chemo event," he said.
The price of chemotherapy drugs also has increased significantly. Over the past decade, monthly costs for new anticancer drugs have more than doubled, from $4,500 to $10,000 (J Natl Cancer Inst 2009;101:1044-1048, PMID: 19564563). Just last year, the FDA approved three new drugs to treat chronic myelogenous leukemia that came with exorbitant price tags: Ponatinib (Iclusig, Ariad) costs $138,000 annually; omacetaxine (Synribo, Teva) is $28,000 for induction and $14,000 for a maintenance course; and bosutinib (Bosulif, Pfizer) costs $118,000 annually (Blood April 2013. [Epub ahead of print]).
A possible explanation for these trends is hospitals are increasingly relying on the 340B Drug Pricing Program as a way to generate revenue. In 1992, Congress created the 340B program with the objective of providing uninsured, indigent patients with better access to prescription medicines. As a response to the 1990 Medicaid Drug Rebate Program, the 340B program was designed to cast an even wider net of care, covering poor patients who did not qualify for Medicaid.
"Like many programs and ideas, 340B is really important in terms of filling a need so patients who can't afford care don't fall through the cracks," said Ted Okon, the executive director of the COA. "The concept of 340B is critical for cancer care, in particular, given that the cost of treating cancer has been increasing."
The 340B program requires pharmaceutical companies to provide federally funded clinics and public hospitals serving a high percentage of uninsured patients with rebates on prescription drugs delivered in the outpatient setting. Initially, only about 100 facilities in the country qualified for 340B rebates, including public health clinics, community mental health clinics and disproportionate share hospitals.
But recently, the number of eligible facilities has ballooned. A snapshot shows that from 2005 to 2011, the number of hospitals participating in the 340B program almost tripled, from 591 to 1,673, comprising one-third of all hospitals in the nation, according to a September 2011 report from the Government Accountability Office (GAO). Notably, the study found that discounts from the 340B program have increased sixfold, from $1 billion in 2003 to $6 billion in 2010.
This trend has many worried that the 340B program has strayed from its original intention to help needy patients, and is creating a loophole through which hospitals can make millions of dollars a year.
"Today, we have a very confusing situation," said Adam J. Fein, PhD, the president of Pembroke Consulting, Inc., and CEO of Drug Channels Institute in Philadelphia. "There are some legitimate entities that really do require additional financial support. However, there are also many profitable, large, well-funded health systems that are taking advantage of the program by using the funds in ways that can't be linked in any way to its initial purpose."
The 340B Transformation
Since its inception, 340B has undergone several key changes that have expanded its use. In 1994, the Health Resources and Services Administration (HRSA) allowed outpatient facilities considered integral to a 340B-eligible hospital to participate in the program, where "integral" referred to hospital outpatient services reimbursable under Medicare. In 2003, Congress extended 340B benefits to rural and small urban hospitals serving a certain percentage of indigent patients, and in 2005, children's hospitals came under the 340B umbrella. By 2010, the Affordable Care Act had extended the scope of the 340B benefits to outpatient settings of cancer hospitals, rural referral centers, sole community hospitals and critical access hospitals.
The definition of a 340B patient also has left the program vulnerable to growth. In 1996, HRSA defined an "eligible" individual as someone for whom the hospital maintains records and who receives care from an employee of the hospital. Medicaid-insured patients, with some exceptions, are not eligible for 340B rebates to prevent hospitals from claiming duplicate discounts on drugs through 340B and the Medicaid Drug Rebate Program. However, the definition of patient does not mention the patient's insurance coverage or ability to pay, which means an institution treating an insured patient in the outpatient setting can acquire the drug at deeply discounted prices and still bill the patient and insurer at the drug's full price.
The regulation that may have pushed 340B expansion over the edge occurred in April 2010, when HRSA allowed 340B-covered entities to contract with an unlimited number of pharmacies to fill prescriptions, not one pharmacy as the 1996 HRSA regulation stated. As a result, the number of contract pharmacies has increased sevenfold, from 3,785 in 2010 to 30,046 in 2013, according to HRSA data.
Walgreens dominates this market, contracting with nearly 5,400 340B pharmacies, but other facilities, including The University of California medical centers, have networks of more than 100 contract pharmacies. Today, about one in five pharmacies acts as a contract pharmacy for a 340B entity, Dr. Fein said.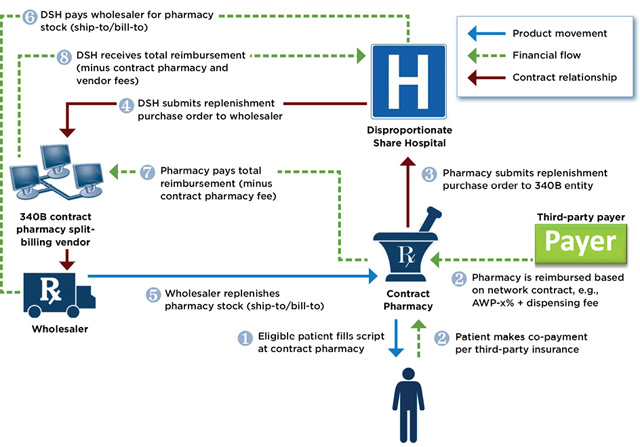 Figure. Flow of funds and product for 340B contract pharmacy network
AWP, average wholesale price; DSH, disproportionate share hospital
Source: Fein AJ. 2012-13 Economic Report on Retail, Mail and Specialty Pharmacies. Drug Channels Institute; January 2013.
Contract pharmacies appear to reap substantial profits from these arrangements. In a recent letter addressed to Walgreens president and CEO Gregory Wasson, Sen. Charles Grassley (R-Iowa) wrote that, according to Walgreens senior 340B inventory and reconciliation analyst Timothy Hong, 340B is "projected to add a minimum of $250 million in incremental revenue over the next 5 years."
Although contract pharmacies may provide substantial value to patients by giving them greater access to prescription drugs, the profits acquired by contract pharmacies through 340B are a far cry from the program's original intention, said Rena Conti, PhD, an assistant professor of hematology/oncology in the Department of Pediatrics at the University of Chicago.
There are also several drivers of 340B growth that are not directly related to the program. In 2003, Congress passed an amendment to Medicare regulations, which took effect in 2005, mandating Medicare to substantially reduce its reimbursement to oncologists for chemotherapy drugs.
"I think the 340B phenomenon started when Medicare changed the reimbursement formula for cancer drugs and services," Mr. Okon said. "Medicare felt that it was overpaying for these drugs, so reimbursement was reduced to more closely match the drug's sale price."
This decrease was meant to coincide with an increase in reimbursement for other services, but the new reimbursement system was riddled with problems, leaving many oncology clinics and private practices, such as Dr. Stark's, without adequate funds to cover basic costs. Before 2005, if a drug cost Dr. Stark $100, Medicare would reimburse him between $120 and $125. With that $20 to $25 difference, he could cover all out-of-pocket expenses, such as $60,000 yearly salaries for his two registered nurses and $4,000 per month for medical supplies, such as needles, intravenous tubing, syringes and gauze pads. But by 2008, reimbursement for drugs had fallen to roughly $106, leaving Dr. Stark unable to afford these baseline costs.
In recent years, hospitals also have experienced budget cuts. "Under these increasing pressures, expanding the number of 340B-eligible patients with good insurance has become a vehicle for hospitals to boost revenue, make up revenue losses and gain a competitive edge," Dr. Conti said.
Repercussions of 340B Expansion
The potential to profit from 340B is changing the landscape of cancer care.
"The big problem with the program is that eligible hospitals get the drugs at discounted prices and charge patients and insurers the full price," Dr. Conti said. "This creates incentives for hospitals to find more paying patients to capture the spread."
For instance, Duke University Health System, which boasts a $2.5 billion health system, disclosed earning $292 million in gross profits from 340B patients over the past five years, and 95% of the patients for which the hospital claimed 340B discounts had Medicare, Medicaid or private insurance.
To maximize these profits, 340B entities are purchasing community and private oncology practices and then driving patient care into hospital outpatient departments.
"What hospitals are doing is acquiring the outpatient oncology practices so they can get more 340B benefits and pocket the profits for all the patients they use," said Bryan Liang, MD, PhD, JD, a professor of anesthesiology and the director of the San Diego Center for Patient Safety, at the University of California, San Diego.
Given that a typical oncologist uses $2.5 million to $4 million of drugs each year, if hospitals increase the number of oncologists under their employ and claim 340B discounts on the outpatient chemotherapy drugs that these oncologists purchase, hospitals can rake in profits of $1 million or more per oncologist per year.
In addition, "with 340B, eligible hospitals are motivated to use the most expensive product to generate the largest profit margin from 340B rebates," Mr. Okon said.
The growing number of 340B discounts also may be motivating pharmaceutical companies to raise their prices. "Pharmaceutical companies manufacturing branded drugs can increase prices to offset the 340B discounts, both on currently available drugs and on drugs they're launching," Dr. Conti said.
However, Dr. Conti noted, the same is not true for generic manufacturers. "We are seeing treatment regimens shift away from generics toward branded drugs. Many generic manufacturers, which are essentially giving away drugs for close to free in the 340B program, don't have the same ability to increase prices," she said.
Despite these downsides, one benefit of 340B growth is the potential to treat more indigent, uninsured patients. After being purchased by Riverside Health, Dr. Stark became eligible for 340B. His chemotherapy drug costs fell by 40%, and he could then treat uninsured patients on a routine basis.
"Riverside Health told me that if you see a patient without insurance, just treat him; we'll absorb the loss, and it will keep us in 340B business," Dr. Stark said. "So, patients with no insurance were sitting in my chemotherapy suite next to patients with good insurance. I was unable to do that regularly in my solo practice because I was not 340B-eligible."
However, it is unclear whether the profits captured by hospitals are actually reducing costs for patients or providing greater access for indigent populations. Two recent studies by Avalere Health and Milliman have documented increased costs associated with chemotherapy administered in the hospital outpatient setting, reporting that Medicare pays $6,500 more per patient and patients pay $650 more out-of-pocket. The Avalere study also found that chemotherapy provided in a hospital outpatient setting costs 24% more, on average, than it does in a physician's office.
In terms of patient access, "I've heard too many stories of cancer clinics that have closed, leaving patients to travel huge distances to receive their care," Mr. Okon said. "Many sick patients just can't do the travel, and thus don't get treatment."
However, all 29 340B-covered entities interviewed for the GAO's 2011 study reported using 340B to benefit patients regardless of the revenue they received through the program. Eligible entities provided free prescription medications, passed 340B rebates to eligible patients and expanded patients' access to expensive chemotherapy drugs by extending pharmacy hours. The 13 covered entities that generated 340B revenue exceeding drug-related costs used the profits to serve more patients and provide additional services, such as patient education programs.
Also emerging from the 340B growth is a new industry of 340B consultants and software vendors seeking to profit from the program. For instance, Dr. Fein explained, after a patient has filled a prescription at a pharmacy and paid for it through insurance, a software company hired by the hospital will pick through the electronic prescription data and identify those for which it is profitable to convert to a 340B claim (Figure). The hospital will buy the prescription from the pharmacy; the pharmacy will turn over its reimbursement from the insurance company for a small fee; and the hospital will replace the inventory that the pharmacy dispensed.
"The hospital can then claim a 340B rebate on that prescription even though the insurance company may have already paid full price for it," Dr. Fein said. "This all happens without the patient, third-party payer or manufacturer knowing."
Potential Solutions
"If left unchecked, the 340B program will continue to grow," Dr. Liang noted. This growth is projected to reach $12 billion by 2016, according to estimates from the Berkeley Research Group, a consulting firm.
Experts have proposed ways to rein in 340B by implementing stricter regulations and greater oversight. For instance, Dr. Fein thinks hospitals and pharmacies should be required to identify prescriptions being claimed as 340B rebates, to increase transparency. He also proposes creating guidelines that dictate how 340B entities should manage their contract pharmacies, especially those with large networks, as well as regulations that limit which patients and prescriptions are eligible for discounts.
Hospitals should disclose how they use 340B profits. "We should have some guidelines as to how indigent patients and true safety net clinics and hospitals should be benefiting from these funds, and more oversight regarding how funds are being spent," Dr. Fein said. "I doubt Congress intended for 340B to support multimillion-dollar bonuses for hospital executives."
Dr. Conti has proposed either scaling down the program and limiting access to drug discounts to patients who are poor and uninsured, or keeping the program at its current scale but passing 340B savings on to patients and insurers.
Closer policing of the program is currently under way. HRSA has been conducting regular audits of contract pharmacies to make sure prescriptions receiving 340B claims are legitimate, and has launched an initiative to recertify entities in the 340B program to improve program integrity and compliance. Already, more than 270 treatment sites belonging to 85 hospitals have been ejected from the program, according to Krista Pedley, the federal official in charge of the 340B program.
"People don't realize how deadly serious this 340B situation is, especially with cancer care," Mr. Okon said. "We've never had more promise in terms of understanding and treating cancer, but we've also never been in a more dangerous position, pricing care out of the market because of programs like 340B. [The] 340B [program] should be protected like a crown jewel, not abused."
—Victoria Stern